In this article we want to show you an example how strong demand on waterfront townhomes impacted one of popular communities in South Florida. Corona Virus Pandemic changed preferences of homeowners – many people now want to have more space in their homes and have more access to recreational activities not available in a condominium. Low interest rates and migration to Florida from other states created very high demand for waterfront homes and townhouses.
For this analysis we selected community Poinciana Island Yacht and Racquet Club in Sunny Isles Beach. The community was built in 1980 and occupies the entire Poinciana Island. Overall, there are 190 units on the island. Most of them have deeded dock spaces where you can park your own boat. 100 of the units are 2 story townhomes. They are located on the east side of the island and facing either south or north. Each of those townhomes have a dock space right behind it. They have 3 different configurations noted as Models A, B, and D. Models A and B are slightly large corner units.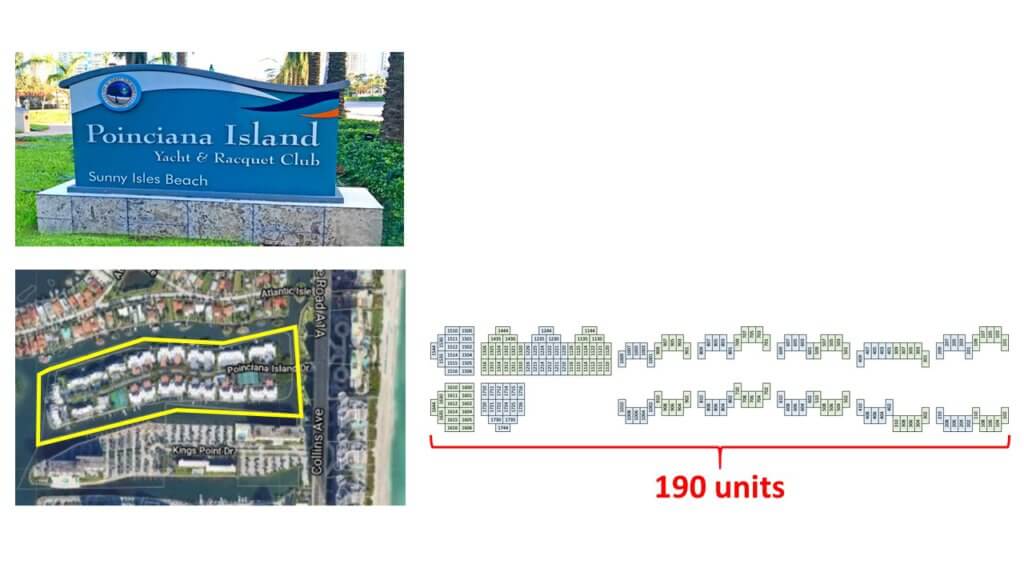 90 of the remaining units are spread across 6 6-story building, located on the west side of the island. Each building has 6 2-story condos occupying the 1st and 2nd floors (Models E and F), then 6 2-story condos occupying the 3rd and 4th floors (Models G and H), 2 1-story condos on the 5th floor (Model J), and 1 penthouse-type 1-story condo on the top 6th floor (Model K).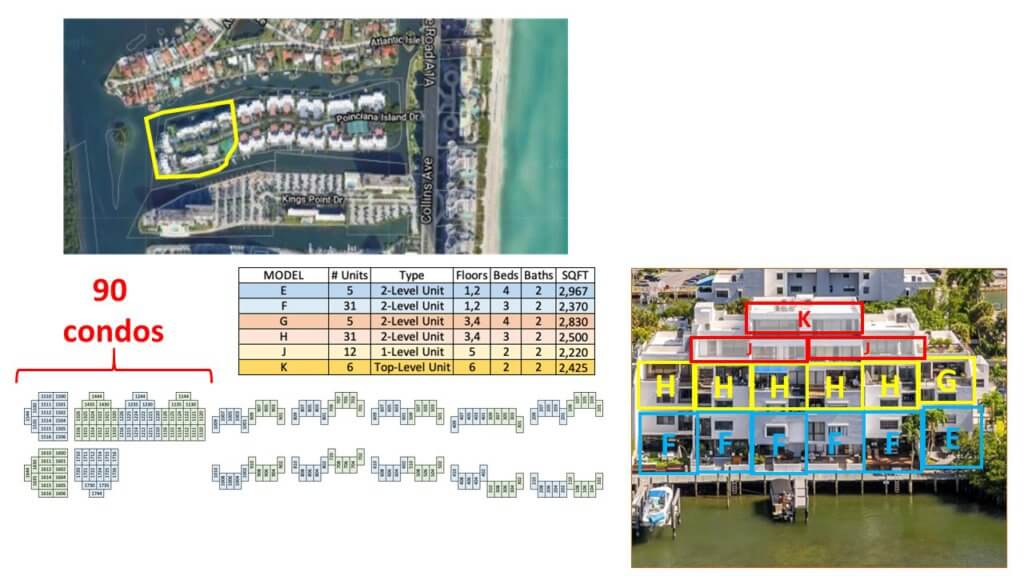 The community has multiple amenities including pools, tennis courts, and community center. The island is located just across Collins Avenue from the ocean. Maintenance fees range from about $800 to $900 per month depending on the model.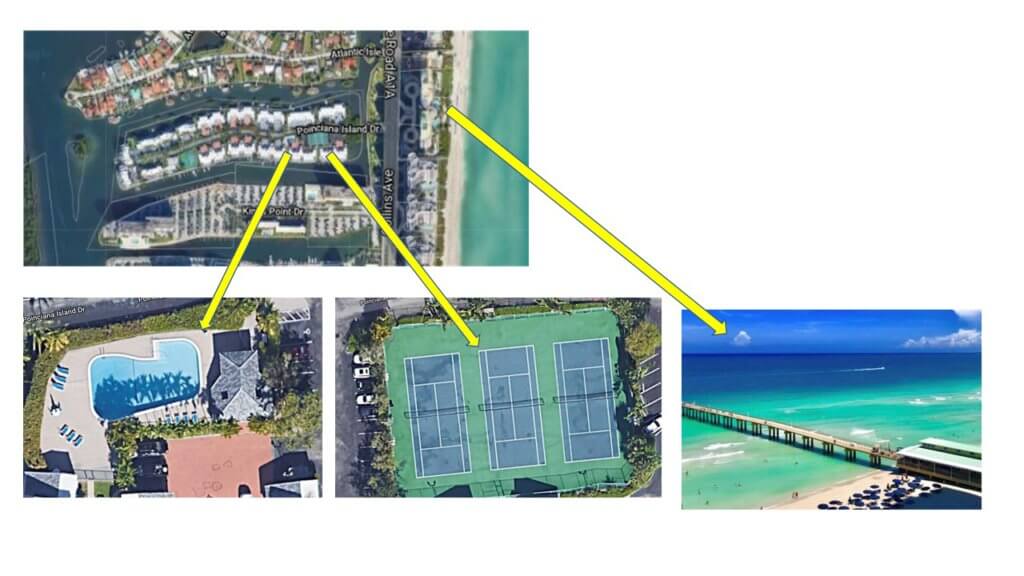 Now, let's look at the inventory. At the beginning of the year, there were 19 units available for sale, which is average inventory level through the last few years. During 2021, the inventory was steadily dropping, and reached the lowest level of just 3 units in May. In June, it increased slightly, but as of end of June, there were only 4 units available on the market.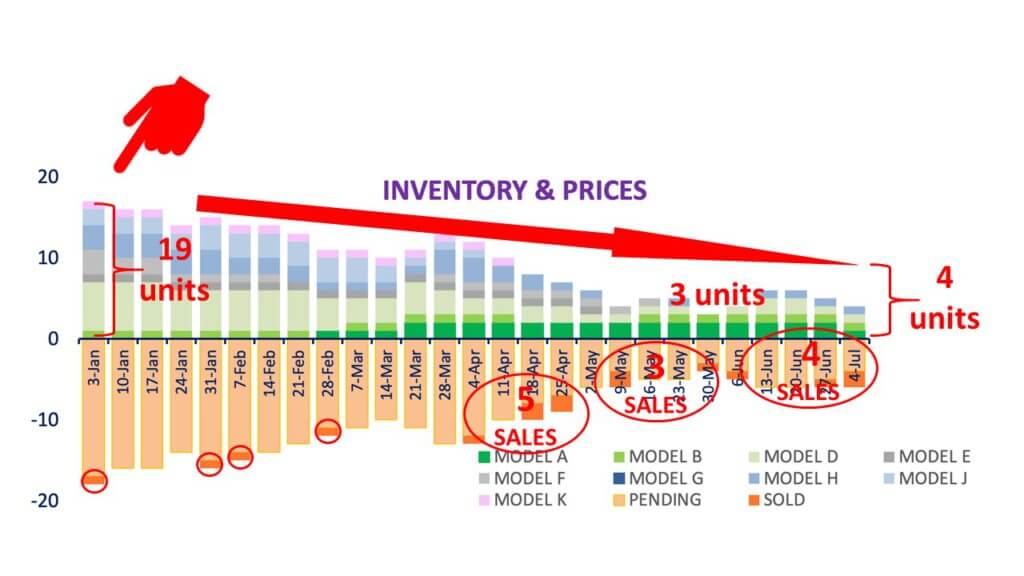 The bottom side of the chart represents pending inventory – as you see it was also steadily dropping due to its dependance to the overall inventory level. There were only 4 sales recorded in the first 3 month. But in April, just in 1 month, there were 5 separate sales. 3 sales in May, and 4 sales in June, which completely depleted the inventory in the community.
Now, let's look at the prices: Brown line represents average price of listed properties, and red dots represent prices for sold properties. Not surprisingly, we see that average price of listed property increased from 700,000 at the beginning of the year to just above 1,000,000 at the end of June. The main driving factor of the price increase is historically low inventory of available properties.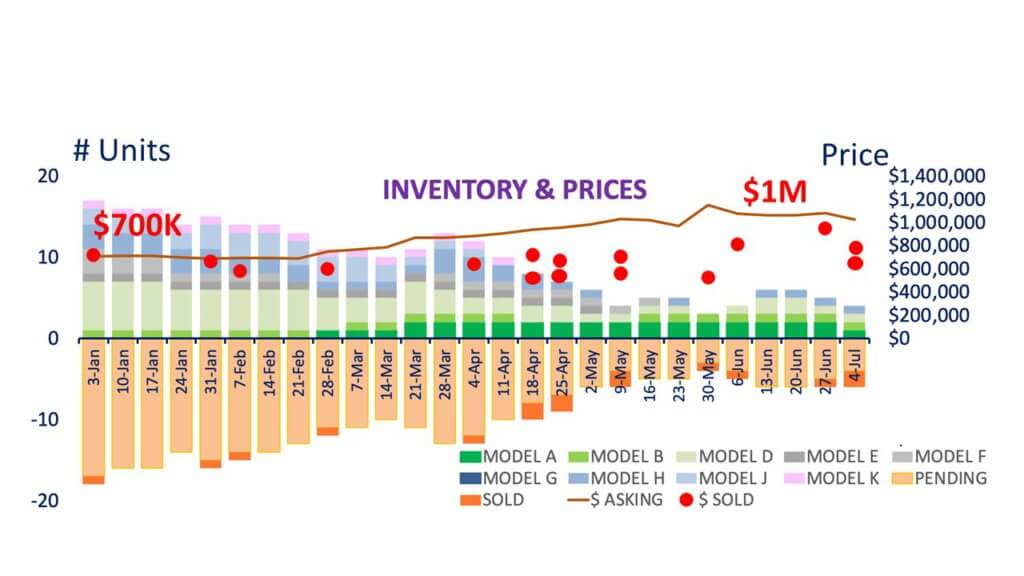 The situation may change in the coming months. On one hand, there is expectation that interest rates will start rising, and people preferences will be less influenced by the pandemic. On the other hand, we have a tragic event in Surfside, which is not yet clear how it will impact the local market conditions. Some people may try to stay away from communities constructed before 1990, while others may prefer moving from high-rise to a 2-story townhouse.
How to use the analytics if you are seller or buyer. It is simple – the best time to put property on market when inventory is low, and there are no competing (or similar) properties, or they are priced above the price you want to sell your property for. For buyer, it is better to wait out when the inventory is low.
The inventories fluctuate all the time, and it is important to constantly monitor the market to make the best deal. When Big Data Realty works with buyers or sellers, this type of analytics helps to decide when to optimally time things like putting property on market or making an offer.
To receive updated information on communities in South Florida, you can out sign-up form. You can also contact us directly if you have questions about real estate.
---